Going pink! Ōedo Line Share House Special!
Going pink, the Ōedo Line!
At Commonshare, we more than welcome peeps from the lesbian, gay and bi community in to our share house in central Tokyo, but "going pink" in this case, we are talking about the Ōedo Line, know for it's bright pink color!
One of 17 subway lines in Tokyo, Ōedo Lines offers great connections with direct trains from Shinjuku to Roppongi, Tsukishima, Ryogoku, Azabu-Juban to name a few, and being a subway line, offers the added advantage that even when it is snowing, or there is a typhoon, you will be sure to get to work or school, even when the normal trains may have been suspended!
You guessed right! At Commonshare, we have quite a lot of share houses within a five minute walk of the Ōedo line, so if you are look for a share house to start your life in Tokyo, and your on a budget, you have definitely come to the right place! (just remember Commonshare, budget share house, great locations!)
With over 70 share houses in Tokyo alone, and English speaking staff, let us know your budget, where you would like to be located, and we can show you around a few share houses (normally on the same day as your enquiry) and hopefully find the perfect Tokyo share house to call your home!
Ōedo Line Stations
There are 38 stations on the Ōedo Line and the stations are as follows:
Tochomae ・Shinjuku-Nishiguchi
Higashi-Shinjuku ・Wakamatsu-Kawada
Ushigome-Yanagicho・Ushigome-Kagurazaka
Iidabashi・Kasuga ・Hongo-Sanchome
Ueno-Okachimachi・Shin-Okachimachi
Kuramae・Ryogoku ・Morishita
Kiyosumi-Shirakawa・Monzen-Nakacho ・Tsukishima
Kachidoki・Tsukijishijo ・Shiodome
Daimon・Akabanebashi・Azabu-Juban
Roppongi・Aoyama-Itchome ・Kokuritsu-Kyogijo
Yoyogi・Shinjuku ・Tochomae
Tochomae・Nishi-Shinjuku-Gochome ・Nakano-Sakaue
Higashi-Nakano・Nakai ・ Ochiai-Minami-Nagasaki
Shin-Egota・Nerima ・Toshimaen
Nerima-Kasugacho・Hikarigaoka
Cost of transport
Living in Tokyo, the cost of getting around quickly adds up! (another reason to choose a share house life to keep your expenses down!).
The basic fare for the Ōedo Line is 180yen and the most expensive is 380yen.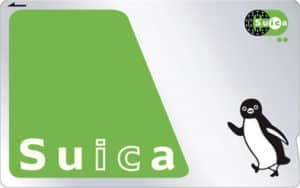 By purchasing a Suica card (a pre-paid card), you can reduce your travel costs from your share house to your school or work place.
Or even better, you can purchase a monthly set route suica card, where you decided the starting point (the nearest station to your Commonshare share house) and destination (the nearest station to your work or school), and then you are free to use as often and as many times as you like. This can actually save you quite a lot of money!
Ōedo Line Schedule
The Ōedo Line runs from 05:00 to 00:59 the next day at intervals as short as four minutes during peak periods and nine minutes at other times.
So even if you job take you into the wee hours, choosing a Commonshare share house, on the Ōedo Line, will make your life easier getting to and from work and school.
Of course, at Commonshare, our share houses do not have curfews and you are free to come and go as you please!
Ōedo Line Share Houses
These are just a few examples of our Commonshare Ōedo Line Share Houses! Or you can select the link below to see all of our Commonshare Ōedo Line Share Houses!
Okachimachi
Common
Okachimachi 1st
5mins to station!
Female exlusive
¥54,000 ~ ¥60,000
Shinjuku
Common
Shinjuku 2nd
5mins to station!
Female exlusive
¥56,000 ~ ¥56,000
Monzen-Nakachō
Common
Monzen-Nakachō
5mins to station!
Female exlusive
¥48,000 ~ ¥454,000
Ryōgoku
Common
Ryōgoku 1st
6mins to station!
Female exlusive
¥53,000 ~ ¥57,000
Stay around, and have a read of some of our other Commonshare articles, introducing you to your new life in Tokyo, the ins and outs of share house living and hopefully making your stay in Tokyo as enjoyable and memorable as it can be!
Near
the
station
Move
in quickly
Low
cost
Many to choose from!!